Your Guide to the Beauty Benefits of Crystals and Gemstones
With the lure of luxe beauty, gemstones are making their way into regular skincare. Oh-so gorgeous gold, sparkling sapphires, lustrous rubies, darling diamonds… the list goes on. If these gems have been an adornment for your jewel box alone, prep your beauty basics for a grand reveal. Crystal-infused beauty products are gaining popularity amongst conscious customers and there's every reason they should be your current crush as well! Read on to find out why we insist so.
The global wellness movement
The wave of customisation and consciousness has led to thoughtful consideration of the ingredients that go in the making of beauty products. Consumers are waking up to the fact that just like food, the products that they use topically also get absorbed in the body and affect their overall health. This has led to audience's growing emphasis on the formulations of beauty products, finally bringing gem stones in the limelight.
Crystals are naturally occurring, an all-organic powerhouse of healing energy
This era has brought a pull towards all things natural and organic. Crystals, from the lap of Mother Nature, carry positive energy of the Earth. The power of gem stones not only enhances beauty but goes beyond physical health. It helps balance body chakras, impacts mental wellbeing, and boosts mood, helping in holistic healing. And as they say, happy girls are the prettiest!
All hail history! It's a trusted element from the beauty chest of the queens
The biggest luxury trends in the self-care sphere at the moment, gem stones have a legacy of followers. Egyptian queen Cleopatra, known as one of the greatest beauties the world has ever known, first made these glow-boosting gem stones popular for their intense healing and anti-ageing qualities. She bathed in crystal-infused water with chunks of gold and rose quartz placed in the water to reap their varied beautifying benefits.


Women's growing financial independence is now matched with thoughtful investment in skincare
One of the sassiest women of the era, the marvellous Mrs Maisel wasn't wrong when she pressed upon the importance of one's own money with no-strings attached. Well-educated women who are aware of environmental and lifestyle aggressors responsible for declining skin health are actively finding ways to provide the best care they need. As they are no longer waiting for someone else to pay for them, maintaining a regime and spending on products irrespective of the price tag has now become possible.
UNDERSTANDING GEMSTONES
Amethyst for skin inflammation
This pristine, purple-hued stone helps relieve stress and promotes feelings of relaxation. Hence, it serves as a great resort to calm redness and soreness. Citrine, the honey-yellow crystal, is another great alternative to soothe inflammation.
Onyx for skin purification
The stone of power, this mystical black and white stone brings excellent cleansing properties to the table. Sensitive skin that's prone to allergies and infections should be treated with onyx, as the stone deeply purifies the skin and stimulates cellular regeneration for complete healing. It's a popular monsoon pick as the skin becomes more vulnerable to bacterial and fungal infections during this season.
Amber for sun protection

Featuring vivid shades of yellow and orange, the ethereal amber offers sunscreen benefits. This energy stone is highly protective against negativity, and is known to lend positivity. When used in beauty regime, it helps detoxify the skin and protects it from harmful radiation.


Pink tourmaline for oil control

Oily skin is a bed for dust and irritants, which leads to sensitivity and even acne. Pink tourmaline promotes harmony, helping the skin maintain correct levels of moisture by preventing excessive sebum secretion.
Gold for anti-acne benefits
Gold has antibacterial and anti-inflammatory properties that makes it an ideal fit for acne-prone skin. A soft metal, it doesn't irritate the skin and gets easily absorbed. It boosts blood circulation that speeds cellular process and promotes healing.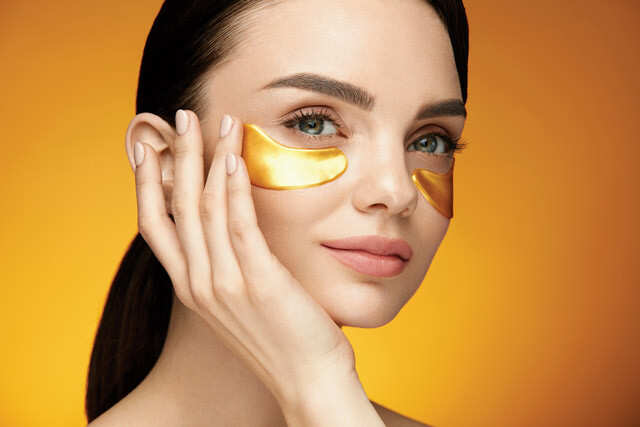 Emerald for anti-ageing
Looking to replenish ageing skin? This green gem lives up to its name and comes with the promise of evergreen beauty. Emerald represents rejuvenation of health and exudes balancing energies. It nourishes the skin from deep within that gives it a firmer appearance, diminishing the appearance of fine lines and wrinkles. Check out its benefit card and you'll agree that it's as close as you can get to an anti-ageing miracle. It prevents loss of moisture, boosts collagen production, repairs damaged skin, prevents pigmentation and evens out skin tone.

Sapphire for nourishment
Sapphire is a water element that provides intense hydration and also acts like a cooling agent. This shouldn't come as a surprise as these benefits come packed in a bright and blue crystal. If you are dealing with dry skin, this is just the remedy you need in your beauty regime. Stay assured that sapphire will help balance your pH levels, leaving your skin plump and perfect!

Quartz for a brighter complexion
Is stress and pollution making your skin dull and tired? It's the story of every city girl who wants to have it all; and why not, when you have the power of quartz to help you get through it. Quartz stimulates blood circulation. A source of regenerative powers, it aids in cellular renewal leading to brighter and even complexion. It also helps combat signs of premature ageing.
Pearl to diminish sun spots
For the field girls who spend a lot of time under the sun, dark spots pose one a major struggle. But not with pearly perfection! This luminescent gem is high in gluthathione, a powerful antioxidant that fights free radicals and significantly reduces the appearance of sun spots.

Diamond for exfoliation

There cannot be a more lavish way to get rid of that grime. Fight pollution with diamonds! Hard in nature, diamonds work well as an exfoliating. It has great absorption level for deep cleansing.

Ruby for a youthful glow
The ravishing red ruby is the gem of the sun. A bearer of fresh energy, it carries all the ingredients for glow galore. A great moisturiser, ruby strengthens the skin and suits women of all age groups; the sooner your turn to ruby, the better! It's also a rich source of Vitamin A, the most sought after nutrient for skin health.
Labradorite for PCOS-triggered skin problems
This stone aids metabolism and helps in balancing hormones. Hence, labradorite serves as an effective remedy for skin issues that arise due to Polycystic Ovarian Syndrome—a common hormonal condition in women.
Other gems to watch out for:

Turquoise

Struggling with constant breakouts? Turn to turquoise to for instant relief. A mineral associated with balance, its detoxifying and anti-inflammatory properties help put an end to acne related worries.

Garnet
A soft energy stone with protective powers, it works as a gentle exfoliator. It is good for travellers to maintain a glow throughout the trip.
Aquamarine
Said to help soothe stressed skin, it is often used to treat skin conditions such as eczema, rashes, inflammation, and allergies.
Peridot
It attracts and draws out impurities from the skin like a magnet, and is ideal for stressed skin. It is an ideal option for those looking for ways to maintain healthy skin.
Tourmaline
The 'zero' in the gem sphere, tourmaline increases the power of any ingredient it is teamed with. It acts as a conductor, allowing the ingredients to penetrate deeper into the skin for best results.
Ponder upon the popular shelf and you'll come across in-salon gemstone facials. Crystal face rollers (Think, jade rollers), for at-home care, and aromatherapy. It's time you hop on the bandwagon and live the luxe life.
Shruti Shukla, www.femina.in, 11-13-19